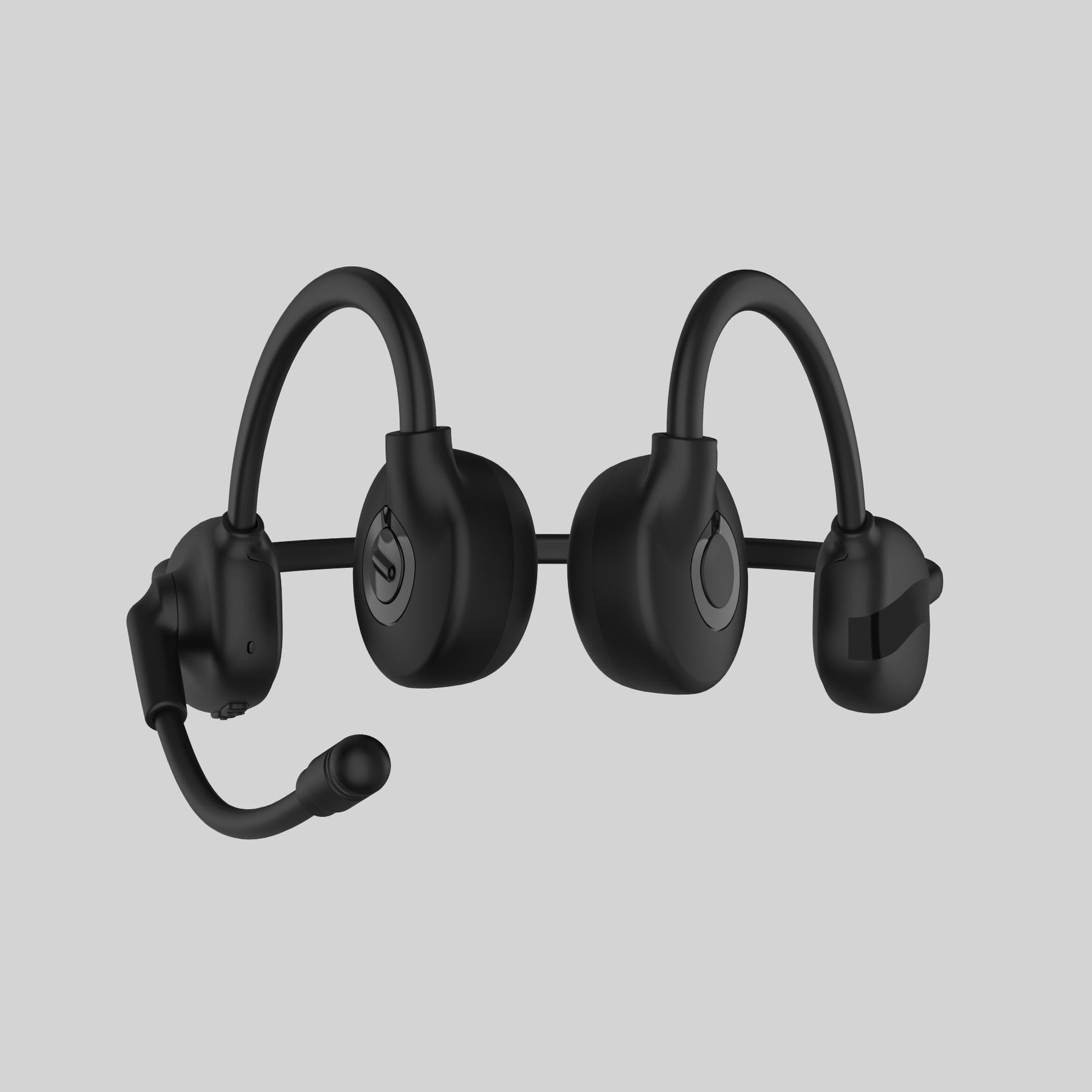 Nank(Naenka) Runner Caller Bone Conduction Headphones with Microphone

1-Year Warranty
Free return and exchange if there is a quality problem
Free Shipping Worldwide
7-10 days can be delivered

Express Delivery
Optional 2-3 day delivery to US
Noise-Canceling Boom Microphone: The noise-canceling technology of CVC 8.0 and the foam microphone cover can effectively eliminate ambient noise and make calls more clear. The 225° rotatable and flexible boom brings you the most perfect call experience.

All-day Comfort: open ear headphones design frees you from the stress of traditional headphones on your ears and keeps you connected and comfortable throughout your workday, stay aware of your surroundings and your team in the workplace.

Easy Controls: You can easily perform operations including answer/hang up/play/pause/volume control/switch audio/activate the voice assistant through the three physical buttons on the headset.

Patented Bone Conduction Technology: More than 80% of the speaker sound travel through your cheekbones (no bone conduction headphones can transmit 100% of the sound through the cheekbones)

Large Battery Capacity: 2 hours of charge time, enjoy up to 9 hours of talk time or 6 hours of listening time per charge, and ensure all-day working online.
1. Since bone conduction headphones transmit audio through the cheekbone instead of air, no existing bone conduction brand can completely eliminate sound leakage, Naenka's algorithm, and magnetic levitation sound unit effectively reduce the leakage of sound.
2. Please don't adjust the volume to the maximum to avoid itchy vibration and excessive sound leakage.
3. The bone conduction headphone may be used for medical purposes, while Naenka Runner Chic is not medical equipment. If you are looking for medical aid headset, you should choose other types.
4. You may feel the bone conduction headphones may not be as loud as the in-ear ones. You are encouraged to use the earplug for a better experience.
Adding a little pressure on the speaker will improve the sound quality while talking on the phone.
5. Please use a 5V-1A charging head to charge the headphones, using the fast charging head may damage the battery of the headphones.
Bone Conduction Headphones x1
Charging Cable x1
Earbuds x1
User Manual x1
Amazing
It's amazing this place is still in business. My headset had issues the 1st day I received it and customer service would not allow a return.
Very good
It fully met my expectations. I make a lot of calls, wearing a headset all the time is very tiring and Runner Caller is doing a great job. The microphone is certainly a differential compared to its competitors that suits my use very well.
Cannot send a review cause I haven´t received it yet
disappointment
I bought it hoping to be able to participate in meetings at work, but the audio keeps cutting out during team meetings, whether by computer or smartphone
Great hands free
The sound is fine. Maybe a little buzzy with deeper vibrations, but otherwise fine. The real bonus is as a hands free when driving or walking. My mum who is the biggest critic of previous devices says it's like I am in the room next to her. The boom does seem to noise cancel effectively for the benefit of those on the other end of the call and is really comfortable and secure to wear.
Amazing Calling Experience
Engineered with patented bone conduction technology to maximize hands-free communication, Runner Caller allows you to stay connected with unmatched awareness and outstanding call quality.
Environmental Noise Cancelling
Unique adaptive environmental noise-canceling chipset technology that monitors background noise and instantly produces an opposite signal, eliminating up to 80% of unwanted disruptive noise.
Open-Ear Comfort
Runner Caller features a lightweight, open-ear design powered by bone conduction tech for all-day comfort. Unlike traditional headsets, our wireless headset allows for communication and awareness in the workplace.
Easy Controls
You can easily perform operations including
answer/hang up/play/pause/volume control/switch audio/activate the voice assistant through the three physical buttons on the headset.

model
Weight:
Waterproof:
Play Time:
BT Version:
Mode:
r-neo
29g
IPx6 2nd Gen Waterproof
10 Hours
Bluetooth 5.3
Bluetooth Mode
Shipping
Yes, we ship all over the world. Shipping costs will apply, and will be added at checkout. We run discounts and promotions all year, so stay tuned for exclusive deals.
It depends on where you are. Orders processed here will take 5-7 business days to arrive. Overseas deliveries can take anywhere from 7-16 days. Delivery details will be provided in your confirmation email.
Product
No, but you can rotate the mic arm to the back of your ear.
Sure, but it depends on your device and if your able to use Bluetooth or if it is disabled by your employer.
The sound quality of bone conduction headphones is not as good as that of earbud headphones due to the different ways in which sound is transmitted and produced.